470 Silver Hawk
Silver Essential & Onyx
Silver Pigeon & Ultralight
S687 Shotguns
AL390 Semiauto
AL390 Special
A304 Lark s/a
Pintail & 1201 FP
AL390 Competition
Sporting Clays
S682 Gold series
S687 EELL
ASE Gold
SO5 Shotguns
SO6 Shotguns
SO9 Shotguns
SS06 & 455
S689 Sable
Beretta It
official site


Start with the Beretta S682- with its superior strength and competition features- then add distinctive beauty with unique refinements, and you have the Beretta S687 EELL, one of the finest target guns available anywhere. Whether your shooting sport is trap, skeet or sporting clays, this is the one target gun that can put you in the winner's circle in style.
Beretta S687 EELL Diamond Pigeon competition over-and-unders merge classic styling and engraving with peerless performance and reliability as no other ever has. The extraordinary strength and performance record of Beretta's competition over-and unders are incorporated into Beretta's top-of-the-line S687 EELL Diamond Pigeon. Wood engraving and finish provide shooters with a classically styled over-and-under displaying all of the character, tradition and excellence Beretta is known for around the world.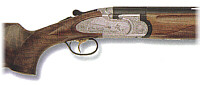 The S687 EELL Diamond Pigeon competition over-and-unders are available in the full range of sporting, trap and skeet configurations. Each is a prime example of the gunmaker's art. The exceptionally strong and reliable Beretta low profile box-lock action is enhanced with full side plates, hand-engraved with game scenes and tasteful scroll accents on the fences and hinge pins. The floor plate is signed by the engraver. Stocks and fore-hands are cut from highly figured walnut, selected for grain and color and laid out to ensure a lifetime of service . Hand cut fine line checkering and the flawless finish complete the wood work. Barrels are cold-hammer forged for concentricity and strength, then polished and blued to a satin sheen. Chrome-lined bores and chambers, along with fixed chokers or Beretta's Mobilchoke system, are standard. Ventilated top ribs and side ribs provide for heat dispersion and help keep your sight picture clear. All S687 EELL Diamond Pigeon models are supplied with a hard case. Select the one that's right for you...

The S687 EELL Trap features a highly-figured walnut stock and beaver-tail fore-end. The single selective trigger is adjustable for length-of-pull fit.

The S867 EELL Skeet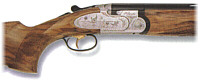 offers fast pointing characteristics and the strength to windstand the rigors of heavy day-in day-out skeet competition. A special skeet stock, rib and recoil pad complete the package. For "all gauge" skeet competitors, a four barrel set is also available with 12, 20, 28 and .410 gauge barrels fitted to the 12 gauge receiver.
The S687 EELL Sporting is equipped with a Schnabel fore-end for enhanced pointability. The streamlined stock has a tapered comb and aggressive competition pistol grip with a palm swell for better control. The wide Strada rib ensures fast target acquisition. Mobilchoke® barrels are standard. The S687 EELL Sporting can be ordered with a spare set of 20 gauge barrels fitted to the 12 gauge receiver.