470 Silver Hawk
Silver Essential & Onyx
Silver Pigeon & Ultralight
S687 Shotguns
AL390 Semiauto
AL390 Special
A304 Lark s/a
Pintail & 1201 FP
AL390 Competition
Sporting Clays
S682 Gold series
S687 EELL
ASE Gold
SO5 Shotguns
SO6 Shotguns
SO9 Shotguns
SS06 & 455
S689 Sable
Beretta It
official site


Express Rifles are not ordinary firearms. The extreme pressures generated by high caliber express cartridges require an action and locking system that has been designed and manufactured with extra strength. Barrels, as well, must be strong and perfectly rifled for ideal ballistic performance and joined with absolute precision to ensure optimum convergence. Utilizing the proven skills and experience of our master gunsmiths, Beretta has designed higher-strength actions than those used in traditional shotgun-framed express rifles.
The SS06 and SS06 EELL Over-and-Under Express Rifles offer unique versatility.Rifled barrels of special steel are cold hammered in three calibers (9.3x74R, .375 H&H Mag. and .458 WIN. Mag.)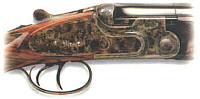 For those wishing to hunt with a traditional shotgun, an extra set of matching 12 gauge barrels is avilable.SS06 Express Rifles are fitted with a blade front sight and a V-notch rear sight with a folding leaf. SS06 barrels can be custom ordered with claw mounts for a Zeiss® scope, factory fitted and sighted-in at 100 meters. Hand

finished, hand-checkered stocks and fore-ends are made from selected walnut or walnut briar with a cheek-piece. A special trap door compartment for extra cartridges is fitted inside the stock, and an area under the pistol-grip cap holds a set of spare front sights. The SS06 is finished with light engraving on its color case-hardened receiver. The exquisite SS06 EELL sports a receiver hand-engraved with game scenes, or a color case-hardened version with gold inlaid animals. The SS06 Over-and-Under Express Rifle is delivered in a fine fitted leather case complete with maintenance tools and cleaning kit.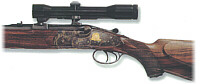 Beretta 's 455 Side-by-Side Express Rifle is built tough to handle the most powerful loads. In designing the 455, Beretta left nothing to chance in ensuring the absolute mechanical and engineering integrity required to handle the specialized loads mandatory for stalking dangerous game. The 455's action is made of a special high-strength steel and forged with an elongated, 60 mm plate. This increases the distance between the hinge pin and the three-lug locking

system to compensate for stress when shooting. To withstand the tremendous pressure of high-powered cartridges, the sealed receiver has reinforced sides, and the top tang extends fully up to the stock comb to further strengthen the attachment of the stock. A carefully arranged system of an articulated front trigger and an automatic blocking device eliminates the possibility of simultaneous discharge. The safety (automatic on request) provides for quick, reliable and positive

on/of operation. The Boehler steel barrels, joined in perfect alignment with the sophisticated Demibloc chamber system, undergo repeated testing throughout the manufacturing process and proofing. The hand-cut, stepped rib is fitted with a V-notch rear sight with folding blade and a fixed front sight.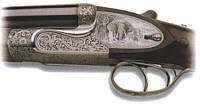 Two versions of the 455 Side-by-Side Express Rifle are available, differing only in the level of finish. The field-finished is elegantly presented with a color case-hardened action. The 455 EELL features highly detailed Bulino-style game-scene engraving or intricate scroll work and a select walnut briar stock and fore-end. An elegant leather case, complete with maintenance and cleaning tools, is provided.

Premium Grade Express Rifle Specifications
Model
Caliber*
Barrel Length (cm/in)
Average Weight (Kg/Lbs)°
9.3x 74R
.375H&H Mag.
.416 Rigby
.458 Win Mag.
.470 N.E.
.500 N.E.
SSO6
.
.
.
62/24
5.00/11.0
SSO6 EELL*
.
.
.
62/24.
5.00/11.0
455
.
.
.
.
.
60/23 to 65/25
5.00/11.0
455 EELL
.
.
.
.
.
60/23 to 65/25
5.00/11.0
*SSO6 EELL Models are available with interchangeable 12 gauge shotgun barrels upon request. °Weights are approximate, dependent on wood density and barrel length.