Skeet
Kolar Arms
Official site

American Skeet places special demands on a shooter and his equipment. In a game of 100X100 and 400X400, there is precious little room for error no matter what class you compete in. The Kolar Competition Skeet gun has a balance and feel that gives you nothing to concentrate on but the target. This feel and pointability come from the fact the gun was specifically designed as a platform for the famous Kolarlite AAA sub-gauge tube system, that is a standard feature with each gun. Two specific configurations are available.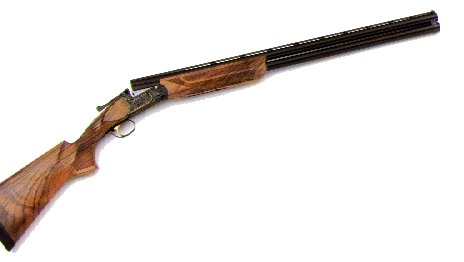 Kolar's Skeet Special is available with either 28" or 30" barrels that feature screw-in chokes, a flat tramline rib, and a specially designed stock to assist in consistent gun mount. The barrels are designed and configured to shoot to a 50/50 point-of-impact on the skeet field. As on all Kolar over/under barrels, the under barrel is adjustable for point-of-impact should your style require it.
The Kolar Competition Carrier Set qualifies as the ultimate tube gun for all gauge shooting. In addition to a 12 gauge screw-in choked barrel for the big bore event, this set is supplied with Kolar's patented "carrier" barrel that is manufactured to weigh and balance virtually the same with AAA Kolarlites installed as the standard 12 gauge barrel. The result is incredible. The same weight, balance, swing and feel no matter what gauge you are shooting.
Since Kolar's 12 gauge has already been labeled the softest shooting big bore ever produced, there is no need for a second gun or barrel weights. This set affords the shooter everything he needs in one airline approved case.
All Kolar Skeet guns may be ordered with a full range of options, including porting, release triggers, and custom-dimension upgraded stock sets.
Kolar AAA Competition Skeet Specifications

Gauge
12 gauge, 2 3/4" chambers w/long forcing cones
Barrel Length
28" or 30" w/Kolarlite AAA Tubes
Carrier Barrel w/tubes optional
Chokes
Screw-in Chokes - flush or extended
Ribs
Flat parallel,
Step parallel
Taper Rib optional
Action
Heat treated chrome-moly steel
Trigger
Single selective, Detachable, Mechanical
Trigger length adjustable, Release triggers available
Stock & Forend
American or French Walnut
Matte finish, Standard forend
Standard Stock
Comb: 1 3/8" nominal
Dimensions
Heel: 1 7/8"
MC: 2 1/2"
L.O.P. 14 5/8" w/ .8" Dec.
Optional Stock
*Custom dimensions available
*Wood upgrades available
Optional Forend
Undersize 1.800"
Oversize 2.125"
Schnabel 1.800"
Case
Aluminum airline case
Grades
Standard, Elite Gold, Legend, Gold Grade, Custom
*Kolar reserves the
right to make product changes without prior notice.