Sporting
Kolar Arms
Official site

The game of sporting clays is one of the most popular forms of clay target shooting. Sporting clays demands a specific type of shotgun that combines the quickness and pointability of a field gun with the rugged durability and smoothness of a competition shotgun.
The Kolar S/C features a neutral weight distribution and balance, unlike many existing clays guns. Its specially designed stock optimizes gun position and mount whether you choose to pre-mount or shoot the low gun FITASC discipline.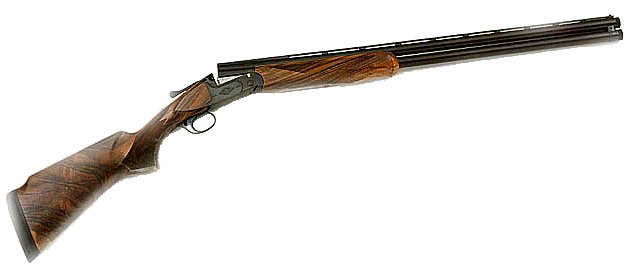 It is available with 28", 30" or 32" barrels that are factory overbored, and long coned for minimum felt recoil and maximum pattern efficiency. Screw-in chokes are extended, knurled, and available in ten constrictions to assure optimum performance. The S/C's barrels feature a flat tramline rib for rapid target acquisition, and superb pointability, and are regulated to shoot a 50/50 point-of-impact. All barrels are competition matte blued to prevent glare and target distortion.
Kolar sporting guns are available as 2 barrel carrier tube sets to optimize competition in NSCA sub-gauge events. All guns are supplied in aluminum airline approved cases.
Kolar AAA Competition Sporting Specifications

Gauge
12 gauge, 2 3/4" chambers w/long forcing cones
Barrel Length
28", 30" or 32"
Carrier Barrel w/tubes optional
Chokes
Screw-in Chokes - extended
Ribs
Flat parallel,
Step parallel
Taper Rib optional
Action
Heat treated chrome-moly steel
Trigger
Single selective, Detachable, Mechanical
Trigger length adjustable, Release triggers available
Stock & Forend
French Walnut
Matte finish, Standard Schnabel forend
Standard Stock
Comb: 1 3/8" nominal
Dimensions
Heel: 1 7/8"
MC: 2 1/2"
L.O.P. 14 5/8" w/ .8" Dec.
Optional Stock
*Custom dimensions available
*Wood upgrades available
Optional Forend
Undersize 1.800"
Oversize 2.125"
Standard 2"
Case
Aluminum airline case
Grades
Standard, Elite Gold, Legend, Gold Grade, Custom
*Kolar reserves the
right to make product changes without prior notice.